Dear visitor of INTERVIT Company website!
We are pleased to welcome you at the new website of our company, where we will tell you about the structure of the Company and its main areas of activity.
INTERVIT Company (formerly "Research and Production Company "Microsin" Ltd.) was founded in 1992 and currently consists of a group of companies united by a common goal of production and financial activities.
The main activity areas of INTERVIT Company are the following:
Among our customers, there are tens of metallurgical, machinery, paint, agricultural, tobacco, confectionery industries of Ukraine, Russia, Belarus, Bulgaria, Italy and other countries.
Our main products for metallurgy are PCD notching inserts and CBN turning tools.
Leading specialists of the Company have many years of experience at Kiev I.N.Frantsevich Institute for Problems of Materials Science of National Academy of Sciences of Ukraine.
Addressing to us, you can always rely on competent advice concerning all the aforementioned issues.
We hope that our website will be a useful tool for cooperation and business communication of all interested professionals.
LATEST NEWS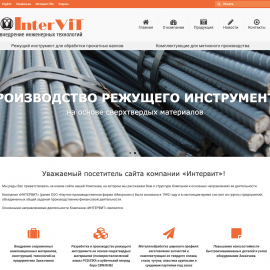 INTERVIT Company launched an updated version of the website according to all state-of-the-art standards and we hope that it is more convenient than the previous one. READ MORE